Are you looking forward to the release of Think Like a Dog, which premieres on Apple TV and everywhere you buy movies June 9th? We were lucky enough to preview it last weekend, and it's a really fun family film. You can catch my full spoiler-free parent movie review here. To get your family all the more excited to watch this upcoming film, today I'm sharing a fun Think Like a Dog game! If you enjoy Mad Libs, you'll love this! Also? I'm giving away a digital code so one of YOU can see this movie absolutely FREE! How's that sound?!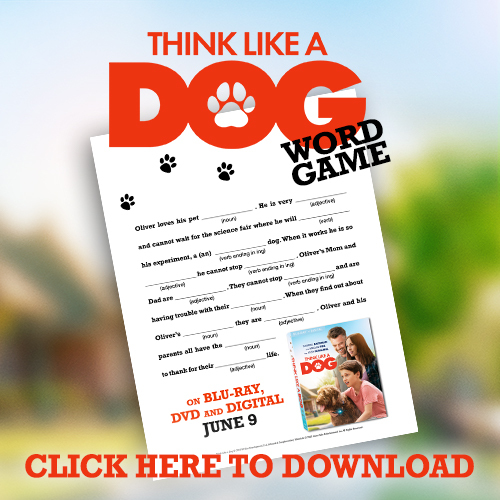 Printable Think Like a Dog Game
This is such a cute game that will get your whole family laughing and ready for an epic movie night! Right now, it seems some of the simplest things mean the most. There's a great message in Think Like a Dog about those simple moments, and I think it can relate to the position our world is in.
Not only will your kids think this game is a blast, it can even be used as an educational tool! They're filling in different parts of speech!
About Think Like a Dog
Josh Duhamel and Megan Fox star in this whimsical family comedy about a boy and his dog, and a science project that will change all of their lives forever. Think Like a Dog follows 12-year-old Oliver, a tech prodigy whose middle-school science fair experiment goes awry, creating a telepathic connection between him and his furry friend, Henry. The bond brings Oliver and Henry even closer as they join forces to comically overcome complications at school, and help Oliver's parents rekindle their marriage along the way.
Enter to WIN a Think Like a Dog Digital Code!
Now here's the fun part! I'm giving one of YOU the opportunity to WIN your own digital movie code for Think Like a Dog! Entering is super simple. Just use the form below! Good luck, everyone!