Looking for a feel-good, heartwarming story about kindness, love, and friendship? Families will be inspired by Wonder the movie! PLUS, check out my "Choose Kind" Wonder the movie FREE printable! Sample was provided for review. All wondrous opinions are my own.
I always say that as a parent, one of my most important responsibilities is to teach my children to be kind. Kindness matters. It is incredibly important, and one of the most significant qualities we as human beings can acquire. Nothing warms my heart more, and makes me more proud as a mom, then when I witness my kids being genuinely kind.
When I was first introduced to the movie, Wonder, I knew it was a must-watch for my 8-year old son, Lincoln. My oldest is truly a sweet, special boy. He exemplifies kindness. I knew it was a movie he would truly appreciate.
And boy did he ever! In fact, we've owned the movie for just one week, and we've already watched it two times! Lincoln told me there were SO many positive messages in Wonder. He also said he wants to ask his teacher if they can watch it in the classroom! Definitely a proud parenting moment for me!!
SYNOPSIS:
Wonder follows the inspiring story of the Pullman family, whose youngest child, Auggie, is a boy born with facial differences. When Auggie enters mainstream elementary school for the first time, his extraordinary journey unites his family, his school, and his community, and proves that you can't blend in when you were born to stand out. 
You can purchase Wonder by clicking here, or wherever movies are sold.
TRAILER:
Wonder Activity Sheets
I'm so happy to share these inspiring Wonder activity sheets. They can be used at home, or even in the classroom! Just click the image to download!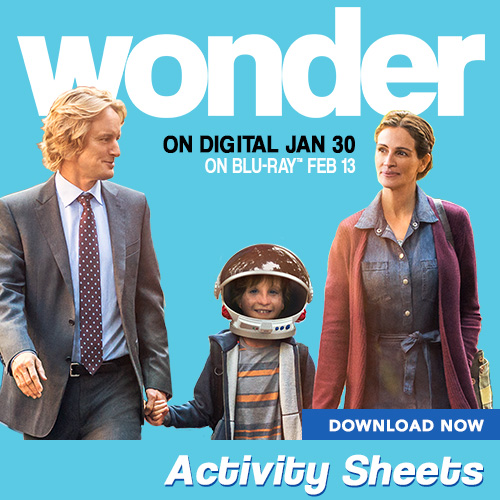 Wonder the Movie FREE Printable 
Our entire family enjoyed the movie, Wonder. We were so inspired by it, that I decided to create a printable from my favorite quote in the movie. "When given the choice between being right or being kind, choose kind."

Want to download your own Wonder the movie free printable quote? Simply CLICK HERE, download, print, and pop in your favorite frame. Display this inspirational quote where others will be encouraged to always "choose kind."